August 1-2, 2018
Leaving Valdez, we traveled northeast on the Richardson Highway and Tok Cutoff to the town of Tok, Alaska near the border with the Yukon Territory.  Everyone traveling by road to or from Alaska passes through Tok where the roads east and west all intersect.  We spent the night in Tok and then turned southeast into the Yukon Territory and spent our next night in Destruction Bay.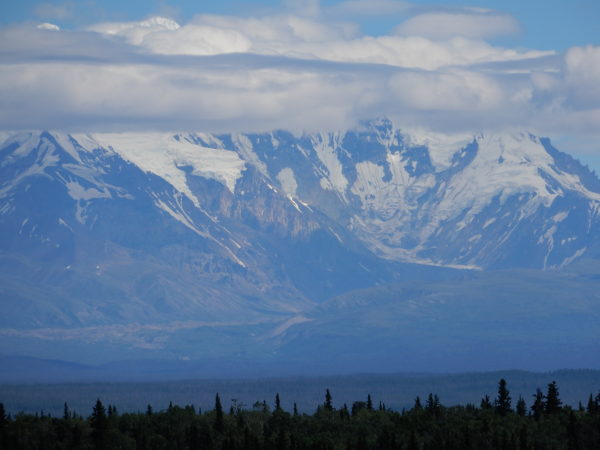 We loved this field of fireweed.
Destruction Bay in the Yukon Territory was established as a tent camp in 1942 by the U.S. Army Corps of Engineers as it constructed the Alaska Highway.  In 1952 the camp was destroyed by hurricane force winds (over 100 miles per hour) so so earned its name Destruction Bay.  Its peak population of about 600 has dwindled to 15.
We had a reservation at the Destruction Bay RV Lodge.  Lorne, the owner, was preparing a barbecue brisket dinner with 7-layer salad and smoked potato salad for a caravan expected the same night.  We joined the caravan for dinner and musical entertainment.
In the meantime, we investigated a situation with the Jeep.  Dave had noticed that the Jeep's connections to the coach seemed to have some play in them.  Lorne told him how to get to the mechanic in the area. Once there it became clear that welds on the Jeep had failed.  Some previous observations now made sense.
Dave had installed a guard to keep rocks thrown by the coach from reaching the Jeep.  The first time we hooked it up, the holes Dave had drilled were off and he had to drill another one.  The first time we used the rock guard, it broke–we thought because the extra holes had weakened it.  Now we realize the radiator support had broken and allowed the lower load beams to move.  The next morning we headed (without hooking up) for Whitehorse and the nearest Jeep dealer.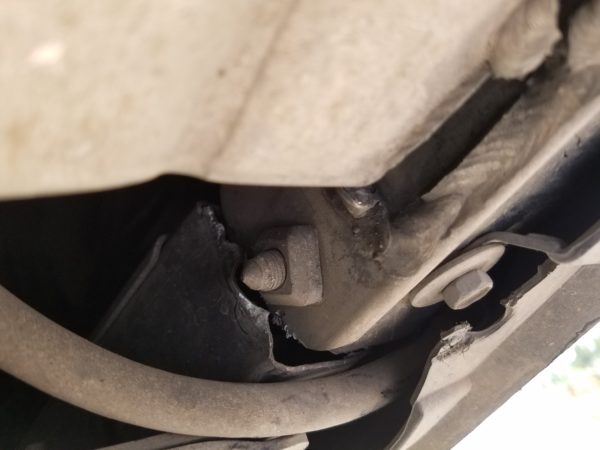 We had been over some rough roads.  Several areas of the Alaska Highway were built on permafrost which became unstable once the road was constructed.  The dark road surface absorbs heat from the sun which melts the permafrost under the pavement and creates dips in the summer. Freezing of the subsurface moisture causes expansion with frost heaves (bumps) on the road surface in the winter.
The road from Destruction Bay to Whitehorse was scenic, but as we were each driving, we didn't get any photos.  We were delighted to make Whitehorse without having the Jeep separate!