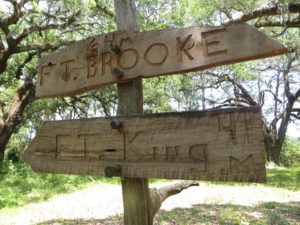 May 25, 2016
In December 1835, a column of  107 soldiers were moving from Fort Brook (near modern Tampa) to Fort King (near modern Ocala).  They were led by Major Francis Langhorne Dade, whom, a ranger told us, was filling in for another officer whose wife was ill.  Groups of Seminoles, totalling 130 and upset at violations of the 1824 Treaty of Moultry Creek, ambushed the soldiers, killing all but three.  This was one of the incidents that started the Second Seminole War.
A Lake County judge, J. C. B. Koonce, pushed to have the property designated a state park and constructed monuments and sculptures in honor of the fallen soldiers.
The park now includes a museum, a reconstructed breastworks, monuments showing where officers fell, and a nature walk.  Along the nature walk is a wonderfully large live oak tree.