August 12-13, 2018
Leaving Teslin, Yukon Territory we traveled east on the Alaska Highway 150 miles until we reached Highway 37, the Cassiar Highway which travels south through British Columbia ending at the Yellowhead Highway 450 miles to the south.  [You may remember that we were last on the Yellowhead Highway when we were in Jasper, Alberta and drove over to Mt. Robson, British Columbia last June.]
The junction of the Cassiar Highway with the Alaska Highway consists of one decrepit gas station, the remnants of an RV park and a string of sleeping rooms that are decaying and uninhabitable. We chose to stay at this RV park to save the 35-mile round-trip drive the more-developed Watson Lake–we'd already stayed there on our way north.   We were the only RV in the park and really enjoyed the quiet and solitude.  Our only company was a family of ptarmigan, squirrels, songbirds, and wildflowers. It was actually very peaceful.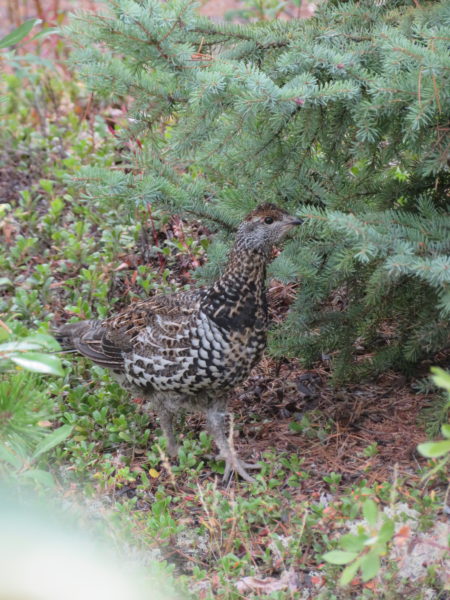 The Cassiar Highway, named for the Cassiar Mountains, was completed in 1972 and is a scenic route narrower than most 2-lane highways with little or no shoulders and no center line or shoulder markings on the northern section of the road.  This made travel rather challenging for our RV at almost 60 feet long with the towed Jeep.
Our first stop on the Highway was at Jade City which is not a city but a highway community made up of one jade business, a small hotel and restaurant, and a bit of overnight parking.  Jade City earned its name as an outlet for jade mined in the mountains nearby.  Cassiar Highway travelers know that this is the spot to buy jade.  About one million pounds of jade is produced each year. Jade City exports high-quality jade to carvers in Asia and South America, re-importing the carved jade artwork for sale in its store.  It also have a huge quantity of raw jade for sale ranging in size from small chips to 8-foot tall boulders.  Dave couldn't resist buying a small piece to see how hard it is to carve.  "Jade Fever" is a reality TV show on Canada's Discovery channel that features Jade City.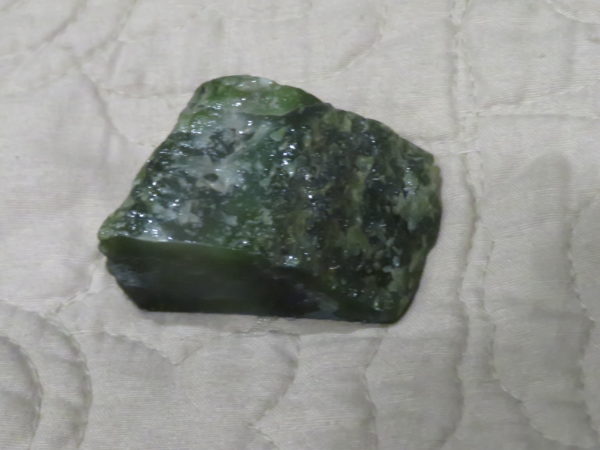 A few miles west of Jade City is the ghost town of Cassiar.  It was an asbestos mining town that supplied much of the world's supply of high-quality asbestos.  The mine closed in 1992, the town was dismantled, and the land was reclaimed by the mining company.
Our next stop was scheduled to be an RV Park in Dease Lake. However, when we arrived in town the smoke was so thick from the forest fires in the area that it was difficult to see the road and hard to breathe without coughing.  We decided to take a chance and continue driving and see if we could find an RV park with better air quality.  Luck was with us and about 50 miles down the road near the town of Iskut we found the Mountain Shadow RV Park on the shore of Kluachon Lake.  We got a beautiful view of the lake and surrounding Cassiar Mountains and much better air quality.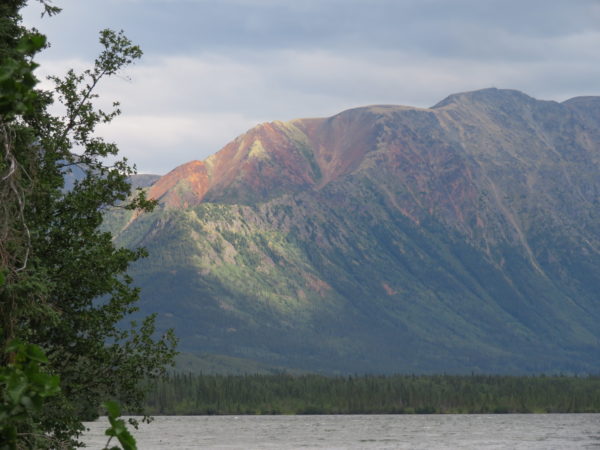 After settling in at the park we took a short nature trail down to the lake and were surprised by the arrival of helicopters that were retrieving water to transport back to the forest fires.  One of the helicopters had a bucket that scooped up water while another had a pipe that sucked up water while it hovered over the lake. We watched until it became too cold and windy when we returned to the coach for supper.