May 31 – June 1, 2016
Neither of us had ever been to Savannah so we let the drivers of hop-on, hop-off trolleys introduce us to this lovely city. We walked along the riverfront where we captured a photo of an exhausted rescue dummy.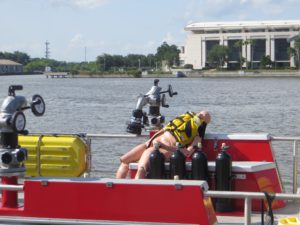 The city was founded by General James Oglethorpe in 1733. Rum, lawyers and slavery were forbidden. Those prohibitions didn't last but Oglethorpe's plan for the city, featuring grids and frequent public squares, is evident today.
We visited Bonaventure Cemetery, Savannah's oldest, founded in 1846.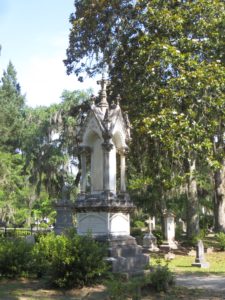 At Fort James Jackson we saw a mountain howitzer fired.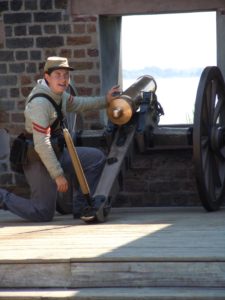 Afternoon gave us a chance to walk around some of the sites described on the trolley tour: The fountain in Forsyth Park (bought, by the way, from a catalog),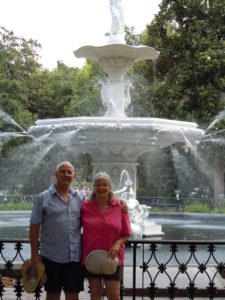 the Cathedral of St. John (said to be the inspiration for Walt Disney World's Haunted Mansion)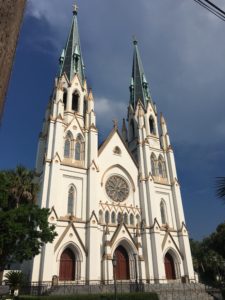 and the Mercer-Williams House, featured in John Berendt's book Midnight in the Garden of Good and Evil.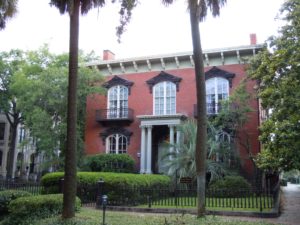 We toured the Savannah History Museum. Former Girl Scout leader Jane now feels her knowledge of Juliette Gordon Lowe, founder of the Girls Scouts of America, is no longer deficient, even though she didn't manage to take either her troop or her daughter to the birthplace of Girl Scouting.